What is Topology Optimization?
Topology optimization is used to ensure that the size, shape, structure, and material layout of a product is as efficient as possible for an engineering project using an algorithmic process based on given specifications. Altair takes into consideration constraints such as geometry, loads, materials, restraints, connections, and cost to make the optimization process easy and accurate.
How does it work?
As an algorithmic process, it predicts performance through simulation of a product through numerical methods like the finite-element method (FEM). Altair utilizes symmetry, draw direction, cavity avoidance, and overhand angles to optimize products for several manufacturing methods such as 3D printing, forging, and welding among others.
How is it implemented in the design process?
The use of topological optimization is centered around improving the design process. While other technologies might implement it towards the end of their project, Altair optimization can be used at the start of a design to assure an efficient design process that requires less last-minute changes, and quicker time to market.
Why is it important?
By using topology optimization early on in the conceptualization of a product, designers can improve any spaces and shapes that require fine-tuning.
Aside from allowing the project to stay true to form, the use of a technology such as Altair permits efficiency in other areas of both the product and the design process. It ensures that all space is used economically and efficiently, for time and resources to be used adequately, and makes improvement changes easier to implement.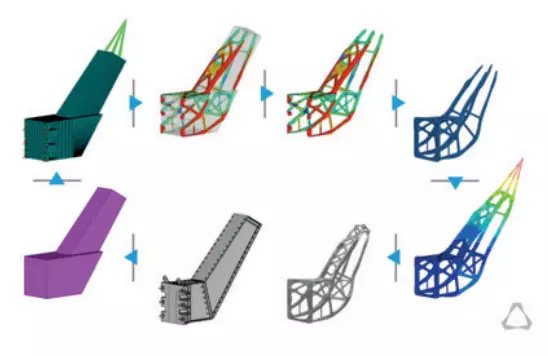 Topology Optimization vs Generative Design
Although generative design is a newer concept, it is based on the foundation of topology optimization, which is focused on finding the best solution. This single solution method allows for a more streamlined design process and meeting with any set specifications or constraints. This is especially true in terms of how much space the material occupies. Generative design, on the other hand, while still focused on a streamlined process, provides various solutions rather than just one. Additionally, it can be based on a variety of specifications rather than solely focusing on engineering.
Altair Topology Optimization Tools:
ENGINEERING.COM
Research Report
Generative Design and Topology Optimization: In-Depth Look at the Two Latest Design Technologies
Ready to Take the Next Step?