Stay Cool: A Guide to Thermal Analysis Software

with Altair

With the increasing demand for high-performance, energy-efficient products, it's becoming increasingly important for engineers to consider thermal analysis during product development. Altair Engineering offers a comprehensive portfolio of software tools for performing thermal analysis. In this post, we'll look at some of the most popular tools in the Altair portfolio and highlight their key differentiators.

Altair HyperWorks

Altair HyperWorks is known as a complete solution for simulating complex multiphysics, cross-discipline analysis and large deformation studies. It's also extremely capable of simulating heat transfer phenomena in electronic and mechanical systems. It features a user-friendly interface and can handle both steady-state and transient. Key differentiators include its ability to perform multiphysics simulations and its robust meshing capabilities.
Altair HyperMesh: The industry-leading finite element analysis (FEA) pre-processor that provides an integrated environment for preparing and analyzing thermal models. It supports a wide range of thermal analysis types, including conduction, convection, and radiation. HyperMesh allows users to have more control over their mesh, which in turn, leads to more accurate results.
Altair OptiStruct: It offers advanced capabilities such as non-linear thermal-structural analysis and transient thermal analysis. A structural optimization tool that can be used in conjunction with thermal analysis to optimize the design of thermal systems. It offers a wide range of optimization algorithms and can handle both deterministic and probabilistic design optimization.
Altair Radioss: A high-performance finite element analysis (FEA) explicit solver that is capable of handling large, complex thermal models. The key differentiators here are its scalability, accuracy, and ability to handle large models.
Altair CFD:

Built inside HyperWorks is a complete solution for running computational fluid dynamics (CFD) analysis, which is important when running accurate thermal simulations. Included are multiple CFD solvers for various applications so users can be sure they have the right tool for their specific job.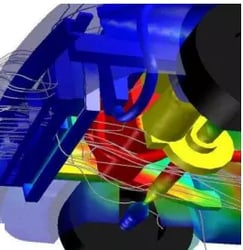 Fig 1: Radiator, wheel well and engine block cooled by under hood flow in Altair HyperWorks
Altair Flux
On the electromagnetics side, Flux is a tool that specializes in simulating low-frequency electromagnetic and thermal phenomena in electronic devices. It features a user-friendly interface and can handle a wide range of thermal analysis types. Key differentiators include its ability to perform multi-disciplinary simulations and its advanced meshing capabilities when coupled with Altair HyperWorks.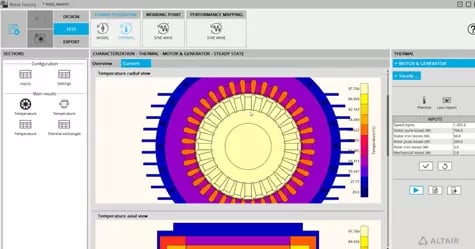 Fig 2: Thermal setup options within Altair Flux
SimLab
Altair SimLab's intuitive interface and powerful thermal analysis capabilities make it easy for engineers to perform thermal analysis early in the design phase to identify potential problems and optimize their product's design. Because SimLab includes the Altair Acusolve CFD solver and the specialized electrical thermal simulation solver Electroflo, it combines the ease of use of most CAD tools with the necessary functionality to get the most accurate results.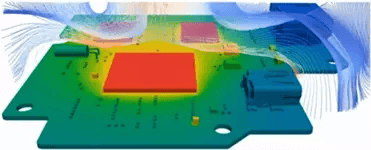 Fig 3:Printed Circuit Board CFD Thermal Simulation in Altair SimLab
No matter what your application, whether you need to perform simple steady-state analyses or complex transient simulations, there is a tool in the Altair portfolio that can meet your needs. If you are not quite sure what is the best solution for you, the TrueInsight team can help you find the right direction to take.
To see more information on PCB thermal analysis, check out PCB Thermal Analysis with Altair SimLab