Altair is always in the mode of continuous improvement, whether that is in the functionality of its software solutions or the customer experience. One result of this improvement process is the Altair One Portal—an integrated hosted platform that allows users to manage their Altair Units, download software solutions and access high performance computing capabilities.
Some of our previous posts on these capabilities can be found here:
How to Restrict Software Feature Access via Altair One
Making Sense of the User Roles on Altair One
How to Borrow/Checkout an Altair License
In this post, we will look a little deeper at some of the features that are less well-known but still extremely powerful for Altair customers.
Collaboration and Cloud Storage
One constant over the last 5 years is the need for engineering teams to be able to access data from multiple locations and collaborate more effectively with their team members. Through the Altair One portal, users have access to Altair Drive. Drive allows users to easily store, access, and manage your files and folders for hosting files in the cloud. Drive was created with engineering files in mind and extracts meaningful metadata based on the type of files uploaded.
Upload files from any workstation and if needed share these files with team members that are also using Altair One within your organization.
Preview model files and view the details in 3D view.
Add important external data like comments, markups, scenes, and section cuts for a model file to add context for team members.

Fig 1: View recently accessed files in Altair Drive
Access to Altair Learning and Help Resources
The Altair One Portal is designed to be a one-stop shop for the wide variety of resources available to Altair customers. One of the benefits of choosing Altair as your simulation or data analytics provider is no cost training and education for team members. Altair has made it easy to access these resources from within the portal interface. Users can click on the nine-dot icon in the upper left-hand corner to view the fly out menu. On that menu you will see a link to the Learning Center, Resource Library, and the Altair YouTube Channel offering.
Learning Center: 24/7 access to eLearning content; calendar of online, instructor-led training courses; and video learning with sample file downloads.
Resource Library: Choose from product brochures, customer case studies, webinar recordings and more.
Altair YouTube Offering: More than a thousand how-to and step-by-step videos for your favorite Altair software solutions.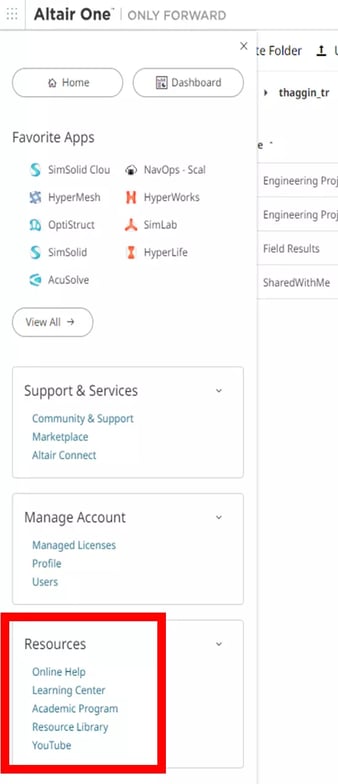 Fig 2: Flyout menu in Altair One Portal
Hosted, Web-Based Tools
The Altair One Marketplace is one of the most well-known benefits of the Altair One Portal. It allows users to access the different software downloads to start using the tools they love. In the last few years Altair has also been adding access to hosted tools, available for purchase, that give users more flexibility for when and where they can use them. Some of these tools are:
SimSolid Cloud: All the benefits of the game-changing meshless simulation tool, but in a browser-based environment.
DesignAI: AI/Simulation-driven design app. It creates optimal datasets, auto-selects the best machine learning model and enables the user to do quick design what-if studies for fast, collaborative design improvements.


Fig 3: SimSolid Cloud Interface
While the core features of the Altair One Portal are well-documented and celebrated, it's the hidden gems within this platform that truly set it apart. From collaborative data storage options to hosted and AI-powered design insights that revolutionize problem-solving to access to educational and learning resources, these lesser-known features help users across the Altair family become more productive and efficient.