Altair Monarch, a powerful data transformation tool, has emerged as a game-changer in the world of data analysis and data preparation. In this blog post, we'll explore some of the most powerful features that make Altair Monarch a critical tool for Data Analysts looking to maximize their data transformation processes.
Before I go too deep into the Monarch tool itself, I want to outline how Altair has laid out its Data Analytics and Machine Learning solution set. Monarch is joined by other powerful tools like Altair Knowledge Studio for a deep set of machine learning algorithms, Altair Panopticon for real-time streaming data visualization and Altair RapidMiner for a complete end-to-end data analytics solution. All these tools are accessed by the same Altair Units licensing, meaning there is no additional cost for these additional tools.
1. Data Extraction from Any Source
One of the most common pains we hear when talking to Data or Business Analysts is that they spend a bulk of their time combining data sources. Altair Monarch can extract data from a wide variety of sources, including structured, semi-structured, and unstructured data formats. Whether you're dealing with spreadsheets, PDFs, text files, databases, or even web pages, Altair Monarch can harvest data easily.
This feature is important for organizations with diverse data sources. Altair Monarch's ability to access and import data from a variety of formats means you don't have to waste time manually copying and pasting data or dealing with the limitations of proprietary data export functions. You can simply connect to your data sources and let Altair Monarch do the heavy lifting, saving you time and effort.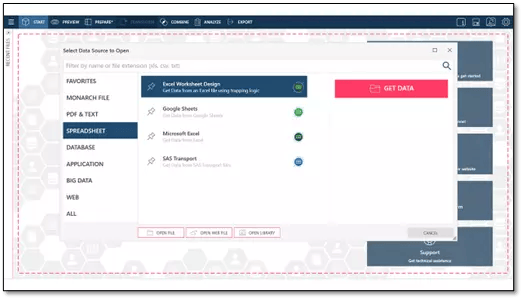 Fig 1: Import Options
2. Intuitive Interface for All Users
Altair Monarch is a no-code data preparation environment, meaning users don't need programming or coding skills to make the most of the tool. The software offers a visual and interactive interface with more than 80 prebuilt functions, allowing you to manipulate data with ease.
With a simple drag-and-drop approach, you can cleanse, transform, and enrich your data. Built in reporting and visualization tools make it much easier to understand your data, allowing you to make more informed decisions.
Fig 2: Monarch interface for joining process
3. Automation of Data Cleaning and Validation
Altair Monarch performs well in this regard by offering automated data cleaning and validation features. You can set up rules and criteria to automatically validate data, identify inconsistencies, and clean dirty data, ensuring that your datasets are accurate and reliable.
Data Extraction. Whether your data resides in spreadsheets, databases, PDFs, text files, or web pages, Altair Monarch can automatically connect to these sources and extract data. Automated data extraction eliminates the need for manual data entry and copying, allowing users to save time and minimize errors. This is especially valuable in situations where data needs to be collected regularly or when dealing with large volumes of data from various sources.
Workflow Automation. With this feature, you can create reusable workflows that save time and effort in repetitive data preparation tasks. For example, you can set up automated workflows to extract, cleanse, and transform data, all without manual intervention.
Conditional Data Processing. Altair Monarch's automation features include conditional processing, allowing you to define rules that determine how data is transformed depending on certain conditions or criteria.


Fig 3: Result of cleaned data in common format
4. Data Aggregation and Summarization
For those working with large datasets or seeking to generate insights from extensive data sources, Altair Monarch provides robust data aggregation and summarization capabilities. The software lets you aggregate data based on one or more columns, calculate sums, averages, or other statistical measures, and generate aggregated data sets that are ideal for reporting and analysis.
On the summarization side, users can create summary tables, charts, and pivot tables, allowing them to distill meaningful insights from complex datasets. The pivot table functionality is especially beneficial, as it enables dynamic data summarization and offers a versatile way to group and display data according to specific criteria.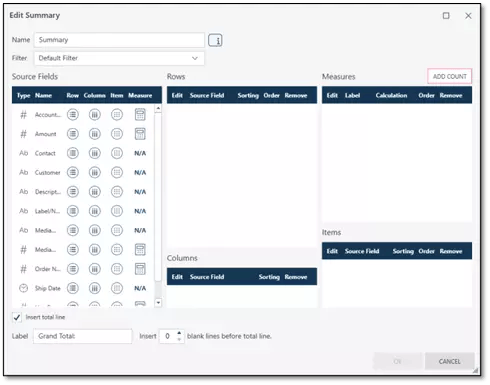 Fig 4: Summary options
5. Data Export and Integration
Altair Monarch offers multiple options for exporting data, ensuring that your transformed data can be seamlessly integrated into your existing workflows. Altair Monarch supports the direct export to a variety of formats, including Excel, CSV, databases, and cloud platforms. It also offers the flexibility to publish data directly to BI tools, such as Tableau, Power BI, or QlikView, allowing for real-time analysis and visualization.
Monarch offers the capability to export directly to cloud storage platforms as well. Whether you use Amazon Web Services (AWS), Google Cloud Platform (GCP), or Microsoft Azure, Altair Monarch's data export capabilities enable you to upload your prepared data to the cloud with ease.
Users can also configure Altair Monarch to access ERP databases and extract data directly. By connecting with ERP systems, businesses can consolidate their financial, inventory, and operational data and transform it within Altair Monarch for deeper analysis, reporting, and decision-making.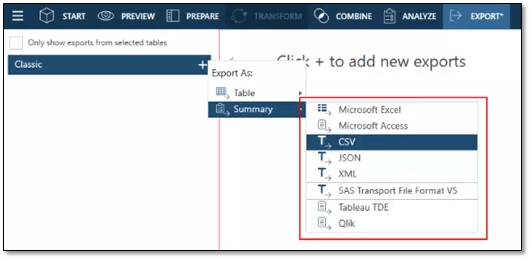 Fig 5: Export options
Hopefully this blog has helped illustrate some of the most powerful features of Altair Monarch. From its data extraction and combination features, the intuitive no-code interface, automation capabilities and aggregation and integrations with external sources; Monarch is worth checking out. If you have any other questions or want to discuss further, reach out to us at info@trueinsight.io.